This page is a continuation of the story of our return trip to Thailand in December 2001. To read from the beginning, select "Return Trip Part 1" on the bar at the left side of this page.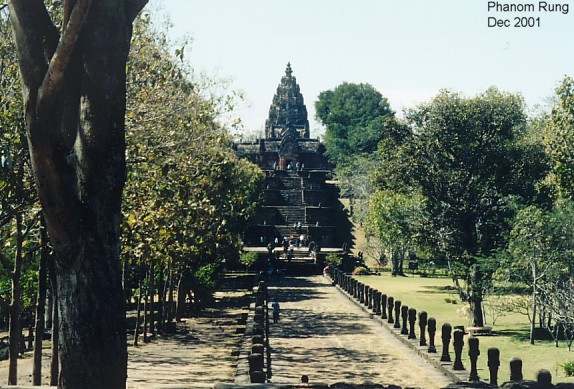 Click on picture to enlarge
Day 3 - Dec 27th:

About 8:00 AM our driver showed up to take us to Korat. This is where I was stationed my last year over there in 1974, and it was where Paiboon and I got married. Before going to Korat however, we drove about three hours and stopped at Wat Phanom Rung. This is an ancient Temple ruin from the Khumer era and it was really impressive. It had a large stone chedi with temple ruins over many acres, and we had to walk about 500 yards down a stone walkway to get to the large stone staircase to the Chedi. A chedi, by the way is a stone pyramid looking structure that is usually the center mark of most temples. This day was one of the hot ones for us. I don't know what the temperature was, but it was at least 100 degrees warmer than what we were used to in Anchorage this time of year. It was no more jeans for me after this day.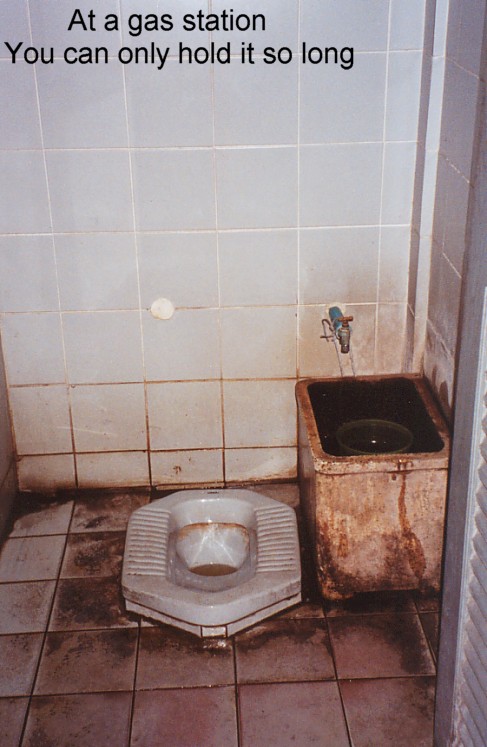 Click picture to enlarge
By now too, Cindy and Bobby were getting used to the Thai toilets and having to pay three baht (about six cents) for toilet paper. For those of you that have never been to Thailand, their toilets leave a lot to be desired. They are nothing more than porcelain holes in the ground about six inches off of the floor, with a place on each side to put your feet. You simply squat, aim and fire. There is always a pot or some sort of container of water beside it with a bowl to wash yourself and to flush with. This is why the three baht for toilet paper is such a good investment. The only thing I never figured out was how to keep your pants dry while you were doing your business. The floor was always wet from the person who was in there and flushed before you. I eventually just learned to take my pants off while I was doing the number two. One day I jokingly asked Paiboon and On how they dry their butts off, but I never did get a straight answer. I told them that's probably why they always go together so they can blow dry each other.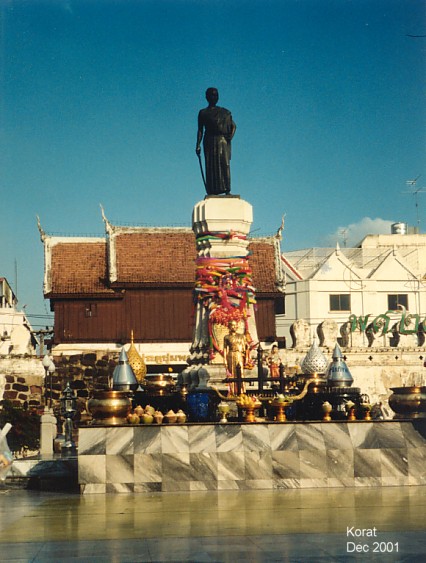 Click on picture to enlarge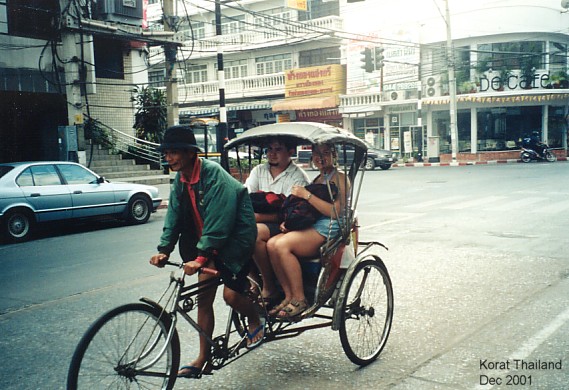 Click on picture to enlarge
About an hour or so from Phanom Rung was the city of Korat. Upon entering the city, we first stopped at the Lady Moah Statue, which is at the city-center. It is a shrine to a Lady who several hundred years ago rallied the local people to fight off foreign invaders. Paiboon and On prayed there, while Cindy and Bobby and I walked the streets for a little while. I knew my way around here a little from the time I spent there in 1974. The city had grown quite a bit, but this part of town was pretty much the same. I waved down a samlar, a three-wheeled pedal cycle, and paid the driver to take the kids back to Lady Moah and I walked the three or four blocks back to the city center to meet up with them and their mother.
From there we drove around looking for Korat Air Base, where I was assigned to the 388th Fighter Wing, but that part of the city changed quite a bit in 27 years. After driving around for a little bit we eventually found the base but were not allowed access. It is a Thai base now, and the American side is put in moth balls until an American unit goes over there TDY to conduct exercises. Since there was no American units there at the time, they would not allow us access to the base. I didn't know it at the time, but a fighter squadron from Elmendorf was scheduled to arrive in about seven more days.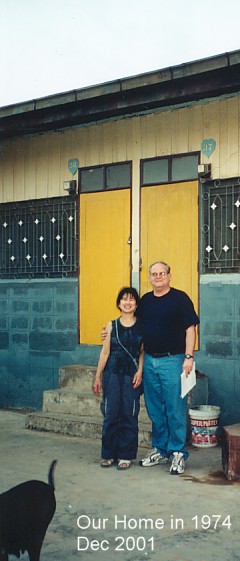 Click on picture to enlarge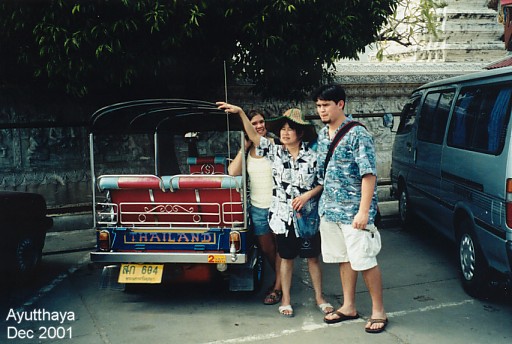 Click on picture to enlarge
One place I wanted to see while in Korat, was the place where Paiboon and I lived while there in 1974. That part of town had changed quite a bit too and we were having difficulty finding it. Paiboon spoke to a tuk-tuk driver who said he knew where the place was. A tuk-tuk is a three-wheeled motorcycle with a bench seat in the back for passengers. This driver said he knew the owner of the place when Paiboon gave him his name. We paid him a few baht, and he and another tuk-tuk took us about a mile through some winding streets and sure enough, there it was. It looked pretty run down after 27 years, and not being kept up with the US dollar, but it was recognizable.
The main house was still occupied by our landlord, who is now a gentleman well into his 80s. We spoke with him for a short while, and he said he well remembered those days in the late 60s and early 70s when there were thousands of GIs at the Air Base and neaby Army Post. He said he remembered me, but didn't remember Paiboon. I had with me some copies of pictures from when we lived there, and I showed them around to he and another fellow who was there. The old landlord recognized some of the pictures I had taken of his sons being ordained as monks, and the other fellow recognized some of the children in the pictures. He said he was a little boy who lived there at that time and remembers quite well when the Americans lived there. This was definitely the high point of the trip so far.
Click on picture to enlarge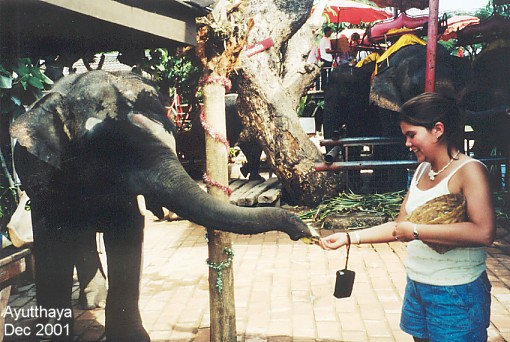 Click on picture to enlarge
Day 4 - Dec 28th:
Today our driver showed up about 7:30 and we headed towards Ayutthaya. I never made it there when I lived in Thailand before, so it was just as new to me as it was to the kids. Ayutthaya was the capitol of Thailand before Bangkok, and has lots of ancient temples and Chedis scattered throughout the city. It was another hot day, but again I don't know if it was because we were from Alaska or if it really was hot. After all, it was Thai winter too. While in Ayutthaya, we came across a parade of elephants, so we had to stop and check them out. We bought some bananas and sugar cane to feed them, and of course we had to ride them for a few blocks, so we could say that we rode elephants in Thailand. The one Cindy and I were on had it's mind set on going into the river, but the driver some how convinced him to stay on dry land. We all really got a charge out of this experience.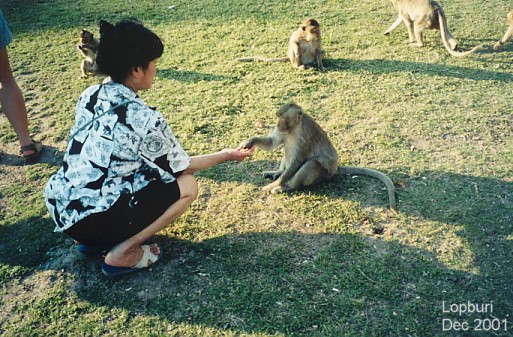 Click on picture to enlarge
From here we drove down to Lopburi. We first stopped at the city center where there is a circle famous for it's monkeys. We all took turns taking pictures of each other feeding them, and were warned to watch our pocketbooks and personal belongings because the monkeys were apt to steal them. Seeing their reflection in your glasses fascinates them too, and I was told to keep close tabs on them. Some of the monkeys were much more aggressive than others, and they would jump up on you and try to take the whole bag of peanuts rather than let you feed them by hand. There was a young Thai boy that accompanied us and kept the more aggressive ones at bay with a slingshot.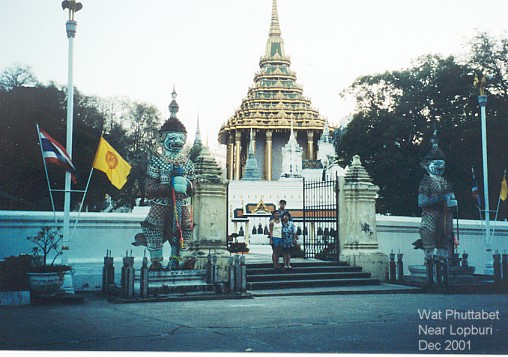 Click on picture to enlarge
On the way out of Lopburi, we stopped at a Temple named Wat Phuttabet. This is a temple, where in the center they have a bathtub looking thing, in which they say is the footprint of Buddha. It was a rather large Temple complex, and we could hear the monks doing their evening chanting. From here it was about one and a half hours back to Prachinburi, after we stopped and ate again.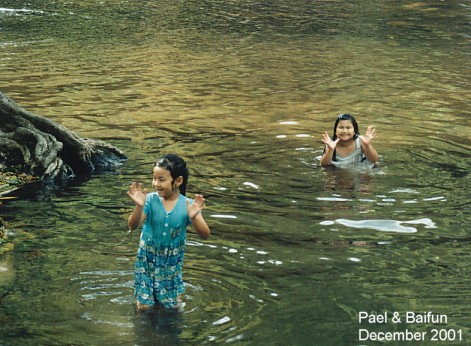 Click on picture to enlarge
Day 5 Dec 29th:
This was the only day on our trip where we sort of took the day off. We went into the town of Prachinburi and shopped around, checked our email at an Internet shop, and sort of just kicked back for a day. Paiboon's brother Tongkun was back home after working out of town for a few days, so we met him at a Park about 45 minutes from town. Here we walked through the park grounds and watched Baifun and her friend Pael swim in the river. It was really beautiful there in the jungle with the waterfalls. Again, we got our share of Thai food as everywhere you go in this country there are street vendors selling fruit, drinks, chicken on a stick, monkey balls, etc. etc. etc. Bobby was beginning to wonder how the Thais got anything done, because it seemed every time we set out to go some place we were stopping every 30 minutes to eat. It seemed that way to me too.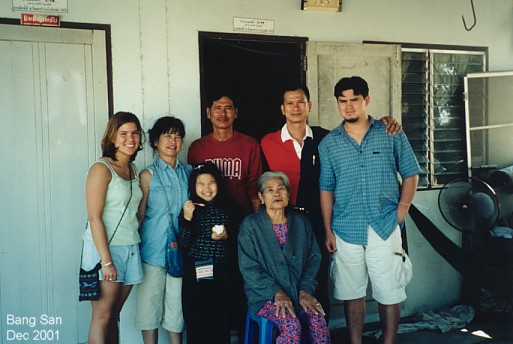 Click on picture to enlarge
Day 6 - Dec 30th:

We loaded up the van about 7:00 am and headed to Bang San beach. This is about an hour south of Bangkok on the Gulf of Siam. We stopped in the town of Bang San first to drop off Grandma at one of Paiboon's other brother's house while we were at the beach. This brother is not near as well off as Tongkun, and we could tell right away when we drove up to their one bedroom apartment/bungalow. It was pretty run-down, and Cindy and Bobby were getting to see first hand that not all Thais are as well off as others. The place was littered with garbage, and Paiboon pointed to a dead scorpion-looking-worm-thing on the ground and told us that if it bites you, you die.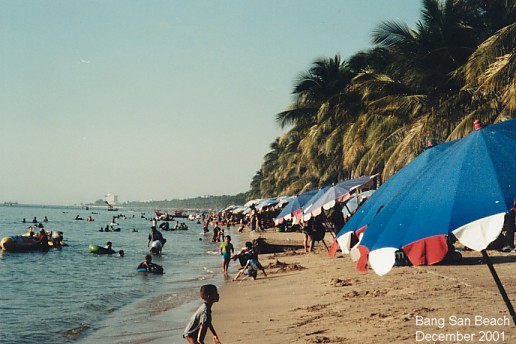 Click on picture to enlarge
After visiting for a short while, we drove about 15 minutes to an open-air restaurant on the beach. Here we chowed down on crab, shrimp and stir-fry. Paiboon's brother whom we just left, suggested a beach bungalow that we could possibly rent for a few days for a good price, so we checked it out. It was only about 40 yards from the beach and was a really nice place for only about 30 dollars a night. Our family stayed in one bungalow unit, while Tongkun, On, and Baifun with her little girlfriend Pael stayed in the one right next door.
My intention when we left that morning was to stay on Pattaya beach which is about another half hour to the south, but somehow the Thais took control and we ended up staying at Bang San. I guess its a good thing, because later that afternoon and early evening we drove down to Pattaya and it was a circus. When I was stationed at Utapao in 1972, it was a pristine beach with perhaps only two hotels on the entire beach. Now it's a city with over 250,000 people, and for miles it's nothing but bars and hotels. It's now nothing more than a popular resort for Europeans, Japanese, and Americans looking for love in all the wrong places. Cindy commented that she never saw such a big meat market.
Just after dark we were walking down along one of the many streets with all of the open-air nightclubs, and the hookers were all over the place. Paiboon and On asked Bobby and I to walk ahead of them, because they wanted to see the action. The girls were all over Bobby and I and asked "please come sit down with me, oh please come sit." I would speak in Thai to them and tell them that my wife, and Bobby's mother, would get very mad if we did. They would say "where is your wife", and I would point back at Paiboon and they would say "Oh, I am so sorry, so sorry". It was really funny. Deep back in my mind I wondered if Bobby wouldn't have had a better time at this place without his mom and dad. Later that evening we drove back up to our bungalow at Bang San, and Bobby and I dreamed about how much different the night could have ended. Ha ha.

For Part 3 of this story of our return trip, click on the link below: