This page is a continuation of Parts 1 and 2 of my story of our return trip to Thailand in December 2001. To access other parts of the story, make your selection on the bar at the left side of this page.


Day 7 - Dec 31st:
We began this day by driving down to U-Tapao Air Base, or at least what used to be U-Tapao Air Base. This place was so different from what I remember from 1972. The only thing I recognized was the mountainside just to the east of the base. The roads were different (now 4-lane highways) and the new entrance to the base took us though what was the back of the base to what is now an international airport terminal. Keeping my eyes open looking for familiar landmarks and getting out at the small airport terminal, I didn't recognize a thing. The main part of the base with the barracks and maintenance shops were all fenced off and concealed by thick foliage. We drove around to what was the main entrance to the base in 1972, but the guards at the gate to the Thai Navy Base wouldn't allow us access. I was really disappointed, but I guess it's just as well, because I was really saddened by all of the changes that I've seen in this area so far. Perhaps I'm better off with the fond memories of 1972 still in my head, rather than having them destroyed by witnessing the results of 29 years of change.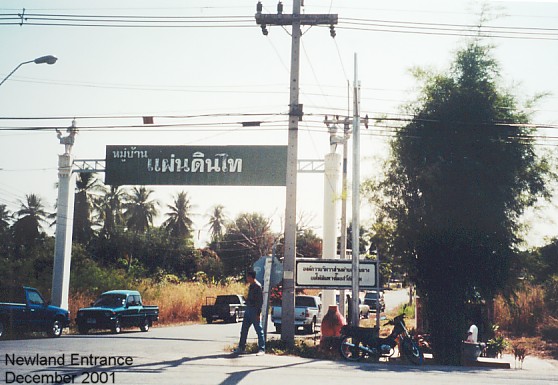 Click on picture to enlarge
From U-Tapao, we drove east through Ban Chang, and Newland to Rayong. These were little villages in 1972, but now they are connected by a 4-lane highway and it's like one big city from what was the base, across the entire 25 miles or so to Rayong. We stopped in Rayong for a short while (to eat again), and did a little shopping. We were going to drive back the same road to Sattahip, but I was so disappointed in the changes that I saw so far this day that I decided that we should just take the expressway back to Bang San where our bungalow was, and we could hang out on the beach.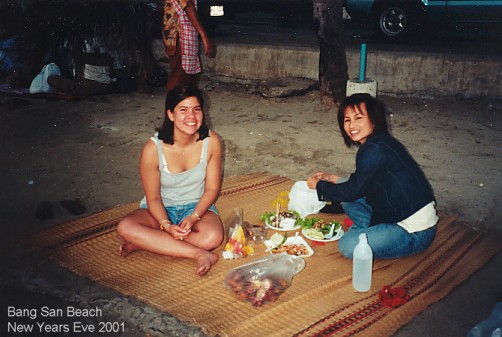 Click on picture to enlarge
This was New Years eve. The beach was now filled with people who had driven down from Bangkok to celebrate the new year. We all sat on the beach that evening and enjoyed watching the beautiful orange sun set in to the Gulf of Siam. Many of the vendors would walk by us on the beach and sell us fried soft-shell crabs, shrimp, and anything else you could imagine. Cindy and I even tasted rice bug eggs.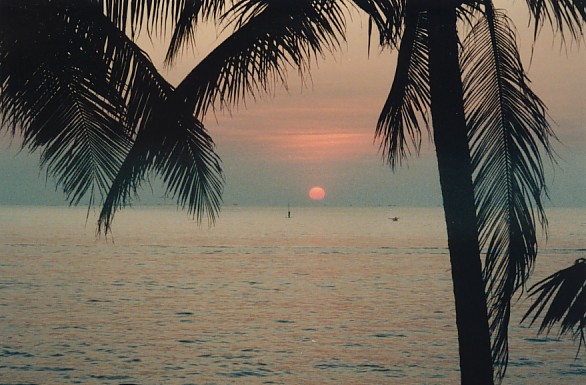 Click on picture to enlarge
A couple of young girls came by selling these fascinating hot-air balloons for just a few baht that people were launching into the air. These ballons were about the size of a plastic trash bag and were launched into the night sky by lighting a wooden type candle tied underneath it. That burning candle would keep it aloft really high in the sky for what seemed like 30 minutes or more. When we first spotted them we thought they were slow flying aircraft. There were many of them in the air at any given time that night. Supposedly the Thais believe that by launching these balloons on New Years Eve you are saying goodbye to the old year as it drifts away into the sky out of sight. We watched these balloons and ate and drank beer all evening. Paiboon and everyone else could only last until around 11:00 o'clock that night, but Cindy and I walked down the beach at midnight to see the people shooting off the fireworks to celebrate 2002.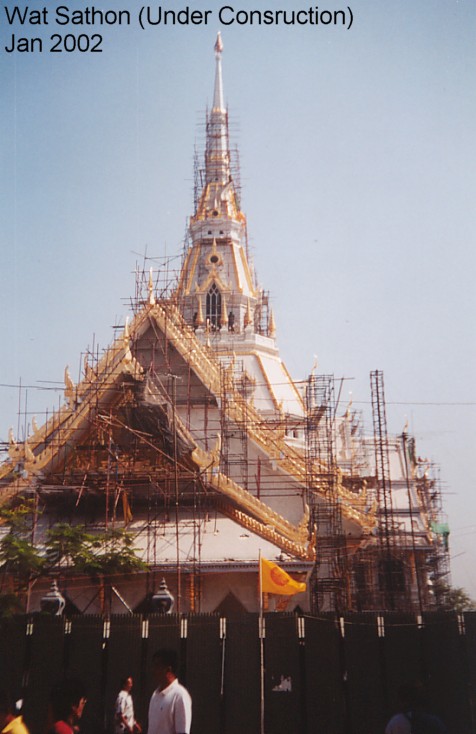 Click on picture to enlarge
Day 8 - Jan 1st:
We slept in until around 9:00 AM this morning before heading back to Prachinburi. About halfway home we stopped at Wat Sathon which is a huge temple complex still under construction. It was started about 10 years ago, and is still several years away from completion. It was really very interesting, because all of the temples we visited so far were hundreds of years old, or were temple ruins, and here we could see all of the detailed work that goes into building one. The marble floors, and ceramic tile roofs are something that you cannot describe. Just outside of Prachinburi, we stopped to visit the ancient city of Prachinburi. Here again we saw some temple ruins and another footprint of Buddha.

Click on picture to enlarge
Day 9 - Jan 2nd:

We got an early start this morning. We were driving to the northwestern most part of the country to Chiang Mai Province. Chiang Mai borders the country of Burma, and the city of Chiang Mai is only about 35 miles from the Burmese border. To sort of break up the nine-hour drive, we stopped at the Bhumibol Dam which is high in the mountains just a couple of hours from Chiang Mai. Bhumidol is the name of His Majesty The King of Thailand, and the dam was named for him. I'm not sure, but it's possible that it was designed by him since he holds an engineering degree and is known for his special interest in projects of this nature. This side trip gave us all a very good look at the tropical jungle and some beautiful scenery.


We also stopped at a Wat along the way, which if you haven't figured out by now, the word Wat means temple. This wasn't one of the most spectacular temples we've seen thus far, but we did see something rather unique. A gentleman led us into one of the out-buidings behind the main temple and closed the door behind us. It was pitch black except for the small amount of light that was shining through a small hole in one of the shutters on one of the windows. On the floor was a stretched piece of plain silk, and on the silk you could see the reflection of a chedi that was outside. It wasn't just a shadow, but a true reflection as we could tell by the colors of the image. It was really kind of spooky.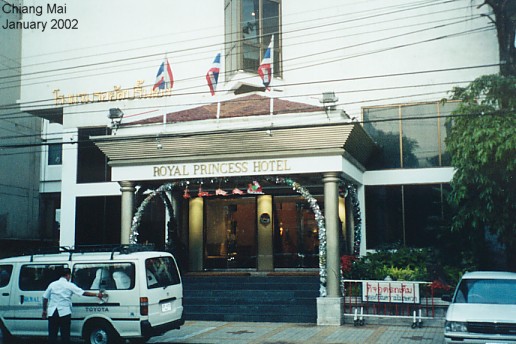 Click on picture to enlarge
We arrived in the city of Chiang Mai about 7:00 that evening. We checked in to the Royal Princess Hotel, which is a luxury 5-star hotel right in the middle of the shopping district of the city. The room was only about $40 US dollars a night, and included an American Syle buffet breakfast. Just outside of the hotel was the city's night bazaar. Both sides of the street were lined with street vendors for about a half a mile down the street. They sold everything from woodcarvings, to T-shirts, to you name it. Cindy and Bobby really enjoyed this place, and quickly learned and perfected their bartering skills. This was definitely one of those places in Thailand where you don't dare pay the asking price. We all stocked up on souvenirs, and in many cases bought items, not because we wanted them, but because we got such a good deal. Bobby bought a Rolex watch for $15.00, and Cindy bought 3 lamps because every one she saw she liked better than the one she bought before. At those prices, it was really difficult to resist.
Day 10 - Jan 3rd:
Today would be one of our busiest days. We began by driving high in the mountains just outside of the city to a Temple called Doi Suthep. When we got out of the van one of the local Songtael drivers approached us. A songtael is a small pick up truck with a roof over the back and bench seats on each side. He offered to take us further into the mountains to a Mao Hill Tribe village. For just a few baht each, we went back into the jungle on this god-awful road to a village of nothing more than huts.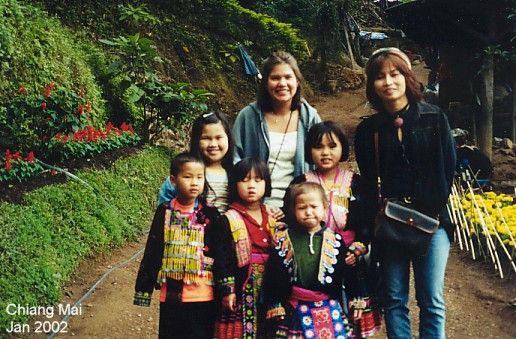 Click on picture to enlarge
Here the locals were dressed in their tribal attire and had shops set up for the few tourists that would venture back that far into the mountains. Bobby and I shot at Papayas with a cross bow, and again we purchased some things that we didn't really need or want but the price was so good we couldn't help ourselves. An example were these hand-carved wooden frogs that would make a croaking sound by stroking thier backs with a wooden stick. I bought three of them. Walking though the village with the chickens running loose and seeing such poverty we never once forgot we were miles from the US. After spending about an hour there, we were taken back to the Doi Suthep Temple.
Click on picture to enlarge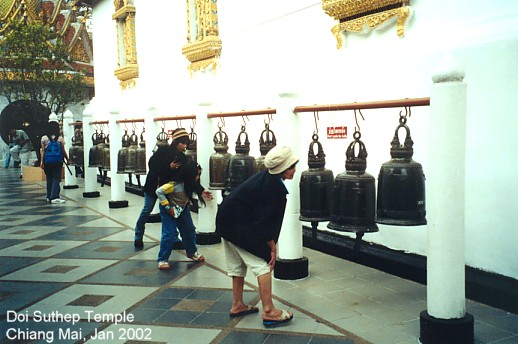 Click on picture to enlarge
Doi Suthep temple is at the top of a really long staircase which is lined on both sides by rolling snake/dragon looking creatures. Cindy, Bobby and I walked to the top, while Paiboon, On and Baifun took the cable car. At the top was the temple with a huge golden Chedi. The temple itself was lined by bells, so obviously we had to walk around and ring all of them. This was Paiboon's and my second trip here. We came before in the summer of 1974. It was much the same this time, but there seemed to be a lot more vendors at the entrance to the staircase leading to the temple, and I don't recall there being as many people here the first time. This could've been because many of the Thais take their vacations at this time of the year.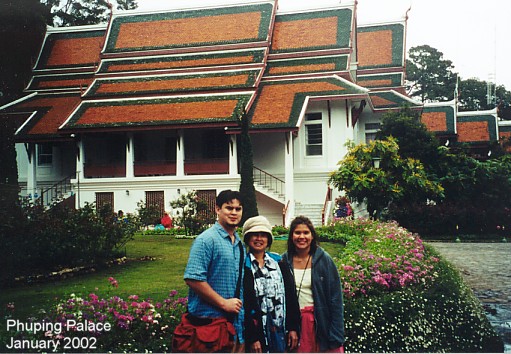 Click on picture to enlarge
From there we drove a short distance to Phuping Palace. This is one of His Majesty The King's retreat palaces. It's a beautiful palace located in the mountains with acres and acres of rose gardens, and many out-buildings. I asked Paiboon what the King did for fun, and she said "he doesn't have fun." That was one of the many astute tour-guide statements she made while we were over there. We often asked her a question about certain things, and it seemed that she would give us an answer even when she didn't know the answer. The kids learned real quick that I probably know more about Thailand than she does.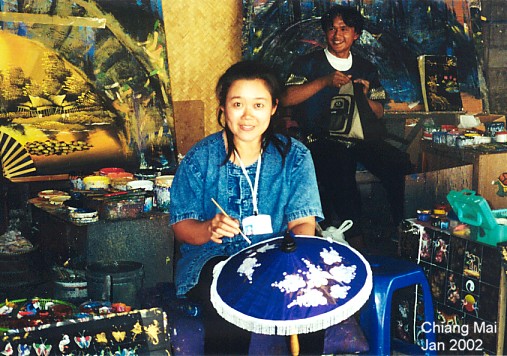 Click on picture to enlarge
We spent the remainder of that afternoon going to the many different factories around Chiang Mai. We visited the umbrella factory and saw how they hand craft the fans and umbrellas from raw bamboo and then hand paint them all. We also stopped at a silver factory where they make a lot of the jewelry and silverware, and we visited a lacquerware shop and several wood carving shops.
That night we once again stayed at the Royal Princess Hotel and had a chance to do more dealing with the vendors at the night bazaar. Bobby ate at McDonalds since he was beginning to miss his American food, while the rest of us went to a Thai restaurant not far from the Hotel.
Day 11- Jan 4th:
After sleeping in till about 8:00 oclock and eating the big breakfast spread at the Hotel, we headed south to Lampang. We stopped at Wat Lampang, but by this time most of the temples were beginning to look alike. Not that they were less spectacular, but the novelty was beginning to wear off to all of us. This temple had another one of those buildings where the chedi reflection was passed through a hole in the wall onto a silk cloth on the floor. Bobby and I were special at this one though because women were not allowed into this building.

Bobby and I gave Paiboon a hard time at a few of the places we visited because they would charge foreigners about 50 cents to enter, but the Thais were allowed in for free. We all warned her that when we returned to the States that we were going to insist that some places start charging her while we get in for free. It was really fun to tease her. At one of the temples they even had a special rack for the Thais to put their shoes that was aside from where the foreigners were to put theirs. I don't have an answer for that one, sorry.
Click on picture to enlarge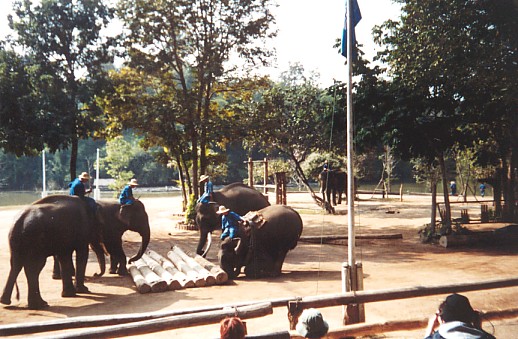 Click on picture to enlarge
Not far from the city of Lampang was the Lampang Elephant Conservatory and Hospital. As we drove in and parked the van, a parade of about 15 elephants was walking up the road. They were on their way to the show ground for a performance, so we timed it perfectly. For about 45 minutes we saw these mammoth creatures demonstrate all kinds of skills; from manipulating logs onto a pile, painting pictures with their trunks to playing musical instruments. It was very interesting.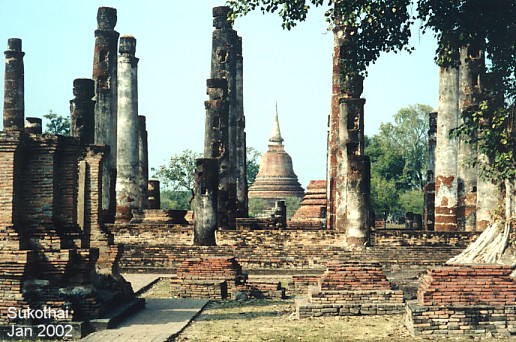 Click on picture to enlarge
Click on picture to enlarge
Driving about three more hours to the south, we pulled in to Sukothai, the very first capitol of Thailand. Here the ancient city is confined within about a one-mile square. Scattered are ruins of temples and buildings from over one thousand years ago. It was much like Ayutthaya, but was more within a confined space. The old temples and ruins of Ayutthaya were scattered all over the entire city and we never could've seen all of it without having to spend several days. Here in Sukothai the ruins were all contained within a walled area, and it was kept up much nicer than Ayutthaya. Being here at sunset too, it was absolutely beautiful to see the red sunset with all of the chedis and ruins and with the palm trees as the backdrop. This was really a beautiful place.
That evening we drove about two more hours to the city of Phitsunalok and checked into the Topland Hotel. It wasn't a 5-Star hotel, but was almost as nice. The first two floors of the hotel was a shopping mall, so we did a little browsing before the shops closed.
Bobby was quick to find another MacDonalds, and the rest of us went out to a sidewalk open-air restaurant. This unique restaurant was featured on a TV show not too long ago. They stir fry the vegetables and noodles in a wok at the curbside, and then the cook goes out to the edge of the street and tosses the meal out of the wok up over his shoulder onto your plate. The only catch is that the person holding the plate is standing on top of a bus that is parked just down the street. I passed on this dish, because I saw remnants of black noodles hanging from the light post and I couldn't help but wonder how many noodles and vegetables hit that pole before it the plate. This was the night that Paiboon had a few too many beers, and Cindy had to cut her off. This is a separate story altogether.

For Part 4 of this story of our return trip, click on the link below: